Popular Volunteer Programs


Popular Internships Programs

Local Festivals & Fests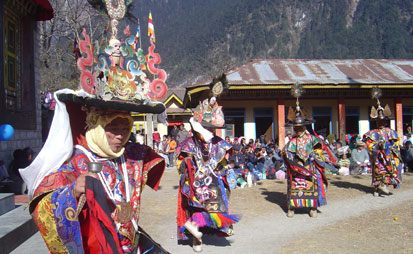 Himachal in fact can be termed as a mini India. Here people of different racial stocks have come together and mingled in the main stream of national life, to make this land a composite of different cultures. Festivals enliven social life and unite the people by bringing them together in joyful celebration of significant events and in shared remembrance of a common past. All the fairs and festivals celebrated in Himachal Pradesh are the result of cultural values, economic needs and time, which have been realised by the inhabitants from time to time and later given the shape of tradition. The main population in Himachal Pradesh consist of Hindus and the percentage of Hindus in Himachal Pradesh is 98%. That is why festivals and fairs here have direct origin in religion and in the myths and legends of popular faith.On the day of festival, people in Himachal Pradesh generally keep themselves free from routine work. They cook special food, must bath, wear neat and clean clothes and worship at the temple with traditional identity. Songs and dance are common features on such occasion. For them, even a small event is big enough to be celebrated. Some of the important festivals of Himachal Pradesh are given one by one.
Chet Festival :
(Dholru) is the first month of the lunar year and the first day of the month is cellebrated with a belief to bring hapiness and prosperity. This festival is known as Chatrali in Kullu and Dholru in Bharmaur area of Chamba district. In district Kangra, Hamirpur and Bilaspur, first day of Chet month hold special importance.
Navratras :
Navratras are celebrated with great interest in Himachal Pradesh. Durga Ashtami is of great importance all over the state. People visit nearest Durga temple to offer prayer during Navratras.
Baisakhi :
It is knows as Bisowa in Kangra, Bissue in Shimla hills and Lisshoo in Pangi-Chamba. This festival is generally celebrated on 13th of April. Preparation for the festival starts much early. The houses are white washed. People take holy dip at Haridwar, Tattapani near Shimla, Banganga near Kangra, Markanda near Bilaspur. During day time, Baisakhi fair is held at many places with traditional gaiety and attraction. Women's participation in large number add special color to the festive mood of the people.
Haryali :
It is also known as Shegtsum in Lahaul, Dhakhrain in Jubbal and Kinnaur. This festival is celebrated on the Ist Sawan - 16th July. Few days before the festival, seeds of five to seven kinds of grains are sown together in small basket full of earth by any member of the family near the place of the household deities. Stems are offered to household deities and are also placed on the upper frame of the door. Farmers do not yoke oxen on this day. Blood sucking insects like Lice, Bugs, Flees etc. are burnt with cowdung balls. People in Kinnaur district garland village deity with wild flowers. Dancing and singing is a common practice during the festival.
Rakhi :
Rakhi is one of the major festivals celebrated all over India. It is known as Rakhrunya in Mandi district, Salunnu in Sirmaur district and Rakhpunya in Shimla district. It is well known as 'Rakhri' in most of the Himachal Pradesh. It is celebrated on the moon full in Shrawan, when sister ties sacred thread round the wrist of her brother and seeks protection and affection in exchange. Brother too give her, either money or some other gift with sweets.
Chrewal :
It is also known as Prithvi pooja in some places. It is celebrated on the Ist of Bhadon - middle of August. This continues for full one month. The farmers do not yoke oxen during this month. In Kullu, this festival is known as Badranjo. In Chamba, it is called Pathroru. It is a festival of flowers here. This is an occasion of great celebration, particularly for girls who dance on this day.
Jagra :
It is a rite offered to any village deitiy. This is commemorated each year on the fourth day of the month of September. Mahasu Devta (deity) is worshipped in upper Shimla hills, Kinnaur and Sirmaur regions of the state. Singing and dancing is the common feature of the festival.
Phulech :
Celebrated only in Kinnaur region in the month of Bhadon or in the beginning of Asauj. People from each household proceed towards hilltops to collect flowers, which are offered to village deity and afterwards these flower garlands are distributed among the people. Priest makes forecasts about crops and changes in seasons etc. Priest's words are taken for granted by local people.
Sair :
It is celebrated in the month of September in new Himachal. This is a Bara-Din (Big day) of the hillmen. Rich food is prepaired on the first day of the month and people worship their local deity for prosperous future.
Jidjed :
It is a religious festival, takes place in the month of October at 'Thang-gyud Monastery' In the month of October, a similar festival called Guitor is held in the Monasteries at Ki, Tabo, Dankar and Pin Spiti subdivision.
Dushehra :
Celebrations of Dushehra are same in all the places of India. It is celebrated on the month of Spetember or October. On Dashmi - 10th day of celebration, people make a bonfire of effigies of Ravna, Kumbhkarna and Meghnatha. It symbolises victory of good over evil. Dushehra of Kullu is famous all over the world.
Diwali :
Diwali is the most famous festival of India. It is the festival related to returning of Lord Rama to home after killing Ravna. It is celebrated in the month of October or November. The festival is locally known as 'Diali. Preparation for the festival starts much early. The houses are white washed. People buy new clothes and new toys for their children. People exchange sweets and other things with each other. Alomost all the bazar are overcrowded on this day and there are celebrations in the air. At night people perform Lakhshami Pooja and after that whole state comes to a new life when children and young ones indulge in Fireworks.
Lohri :
In some areas, it is also known as Maghi or Saza. It is celebrated on the Ist of Magh - mid January. People celebrate it more as a continuation of the season of festivals. After finishing agricultural activities, they feast and celebrate and avail themselves of the time to meet their relatives. This festival continues for 8 days. On 8th day, people make get together and show social solidarity. Dance and music goes on for the whole night.
Gochi :
It is a festival organised in Gumrang Kothi in Keylong and adjoining areas, falling sometime in January or February. Date for the celebrations is decided by the Lamas on the basis of their astrological calculations. This festival is celebrated jointly by all the families, where male child were born in the preceding year.
Lossar :
This festival is celebrated in the entire tribal belt of Himachal Pradesh and in the Tibetan colonies at Manali, Shimla, Dharamshala, Solan and Baijnath. The old Buddhist shrine, celebrating Padamsambhava's marriage with a local Princess at Rewalser in Mandi district also emerges as a pivotal attraction for these religious celebrations. This festival means a beginning of a new year and is held in the last week of February.One can witness a Chham dance, various mask dances and dramas remniscent of the post Buddhist culture with traditional orchestra.
Shivratri :
It is celebrated in the month of February. The western part of India is influenced greatly by the mythology of Lord Shiva. This festival is given the greatest importance even in temples. Some people keep fast on this day. Images of Lord Shiva and Parvati are made from cowdung or earth soil for worshipping. Songs in praise of Shiva and Parvati are sung. This is the festival of great significance in the life of hill people. Shivratri of Mandi ranks above all in Western Himalayas. Mandi town is tastefully decorated and thousands of hill fork arrived in their traditional dresses participate in the fair.
Halda :
It is celebrated especially by the people of Chandra and Bhaga Valleys in December or January in Lahaul and Spiti district. It is like a Diwali festival for them. Though it is a festival of light, no lamps or candles are lighted except that two or three persons from every household carry burning sticks of pencil, thin cedar in their hands to be piled together to make a bonfire and later to be ceremoniously thrown towards the villages of Gushal and Kardang.
Nawala :
Gaddis of Kangra, Chamba, Mandi and Kullu celebrate this festival, when a household individually collects enough money for celebration. Nawala, in fact, is a thanks giving ceremony to Lord Shiva, who is worshipped at the time of misfortune and clamiti. Devotional songs in praise of Lord Shiva are sung throughout the night.